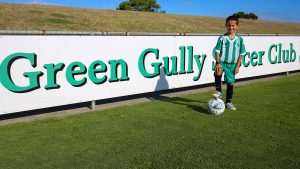 It should come as no surprise that a club formed in 1955 has lent itself to some familiar names during its time. For Green Gully Soccer Club one of those names is Kolbl; a decorated GG family celebrating their fourth generation player in the green and white.
The Kolbl family have played a pivotal role in forming a strong history here and are a  testament to the lasting connection we keep with families and friends who embrace our club.
Fourth generation Xavier Kolbl recently joined our ranks as part of our Miniroos program. Son of Darin Kolbl who played at the club like his father Nick Kolbl, with grandfather Frank Kolbl being an important figure and respected coach during Green Gully's early years.
"Unfortunately, my grandfather passed away when I was a toddler, so I don't have many  memories of my time with him. What I do remember are the many nights spent as a family with my parents in the old club bistro after Dad's games where I had the chance to hear people talk about my Dad and Grandfather," Darin recalled.
Darin's grandfather Frank was instrumental during Green Gully's metropolitan years. A void was left after Harry Moakes decided to step down as senior coach and nobody but Frank stood up to fill that position.
With his son Nick on the team, Frank's senior squad saw promotion to the second division at the end of his second season. Unsurprisingly Frank became a central figure at the club, not only for his coaching but for his dedication to building and solidifying the club's  headquarters.
"I learnt a lot about my Grandfather from the stories I heard over dinner at GG. My grandfather coached junior teams, under 16 and under 18's for several years. GG AJAX played their first senior season in 1964 and the following year my grandfather took over as coach and saw the team promoted to Division 2 in 1966. And my grandfather was the first ever appointed honorary life member of the club."
Darin and his brother Wayne both played for Green Gully as juniors. Darin's son Xavier is now doing the same.
Much has changed in its appearance but the culture remains the same. Relationships formed within the walls of this club, childhoods made rich and great moments relived.
"As a young kid I remember going to the old brown brick clubhouse and hearing stories from club members about all the good times they had playing with my dad and grandfather. Now I get to bring Xavier along to training and see some of these older familiar faces again and share the same stories with Xavier as we walk through the new club and see the old photos hung proudly on the walls."
Darin's father Nick was also a major part of the club's history, winning the club's first ever  championship in 1971, a year after winning the Green Gully Ajax Best & Fairest in his father's final year as head coach.
Nick sat on the board from 2014 to 2019 and is a Contributory Life Member of the club. He  remains a passionate Green Gully supporter to this day and is proud to see his grandson  wearing the green and white as he once did.
Much like his father, Darin also holds a lot of love for the club, having credited GG for a lot of the relationships he still holds dear today.
"Many of my current friends were also old teammates – even my best man was an old GG boy. This is evidence to me that GG fosters friendship, people want to stick around after games and have a chat, eat a meal, and get to know one another. I'm glad my kids can be a part of this welcoming club environment – it's more than just good football, it's good people, friendship, and community spirit. I'm proud that my kids get to share in what their ancestors helped to create."
We at Green Gully would like to thank the Kolbl family for their long and enduring service to our club. Like his family before him, we can see Xavier already giving it his all for the club week to week and we're excited to see this new chapter in your long family history unfold.
Darin is clearly passionate and thoughtful in looking back on his family's time here, and for good reason. 
We would not be the club we are today without the work done by your family. The name should and does carry high prestige within our walls and we hope we have done a small part to honour the efforts and love you poured into this club.
Thank you for allowing us to celebrate the Kolbl name and for sharing your experiences that follow the many chapters of your own life. We hope to see Xavier in the senior squad when he's ready.
Story by: Brandon Hutchinson
Photo by: Paul Crossley