Green Gully Soccer Club is saddened to learn the passing of the first championship winning coach, player.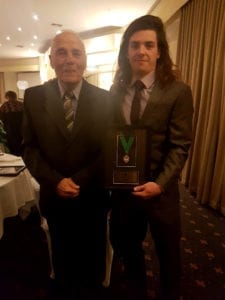 (Tony Vella with Jeremy Walker, the first recipient of the Tony Vella Medal 16 September 2017)
The former Maltese international passed away peacefully surrounded by family on Sunday 26 January 2020.
Tony Vella arrived in Australia from Malta in 1955, already an established footballer with the Maltese national team and Floriana FC.
At the tender age of just 16 years Chelsea Football Club in England had their eyes set on the young footballer in Malta and invited him to trial with them. At the request of his beloved mother, Tony Vella refused the offer and stayed in Malta until 1955.
Tony Vella joined Green Gully Ajax in 1971 as the senior coach and player. In his first year at the Club the GG Ajax won its first ever championship. Tony Vella was known at Green Gully as the football brain. Tony was so advanced in his Football knowledge for that time, he was quoted saying back in 1971.
"You do something, you do it properly and my belief always was to do things from the back. If you start from the back, you've got a chance. If you start from the front, it's much harder and as always, you need that bit of luck. If you don't have it, you can attack more than the opposition and the opposition gets up once, they put the ball in the net and you lose".
In a career spanning over 25 years, Tony's contributions growing football in Australia and putting Green Gully on the Victorian football map. Tony also played for Footscray JUST, George Cross, Lions, Polonia, Pasco Vale and St Albans, as well as representing Victoria and Australia.
In 2017 the Club named the Club's Player of the year medal as the Tony Vella medal in his honour.
On behalf of the Green Gully Board, Management, Players and all the staff we send our deepest condolences to the Vella family.
Funeral service information to follow