This Saturday your Green Gully Cavaliers are travelling again as we go to Elcho Park to take on North Geelong Warriors in our Round 7 clash of NPL Victoria.
We unfortunately fell short to Avondale last weekend as Avondale took the lead in the 42nd minute as they scored on a counter-attack. They then extended their lead in the 57th minute. Green Gully responded in the 63rd minute with Nahuel Bonada scoring off a cross. Avondale scored again in the 84th minute scoring on a one-on-one opportunity. Green Gully scored a consolation goal in the 88th minute with Adolph Koudakpo heading in a corner kick.
This week's opposition North Geelong Warriors played Moreland City in round 6 they lost that fixture 4-1 with their goal coming from Steve Fidele. The Warriors currently sit in 13th position and Gully sitting in 5th position it is a very important game for both sides.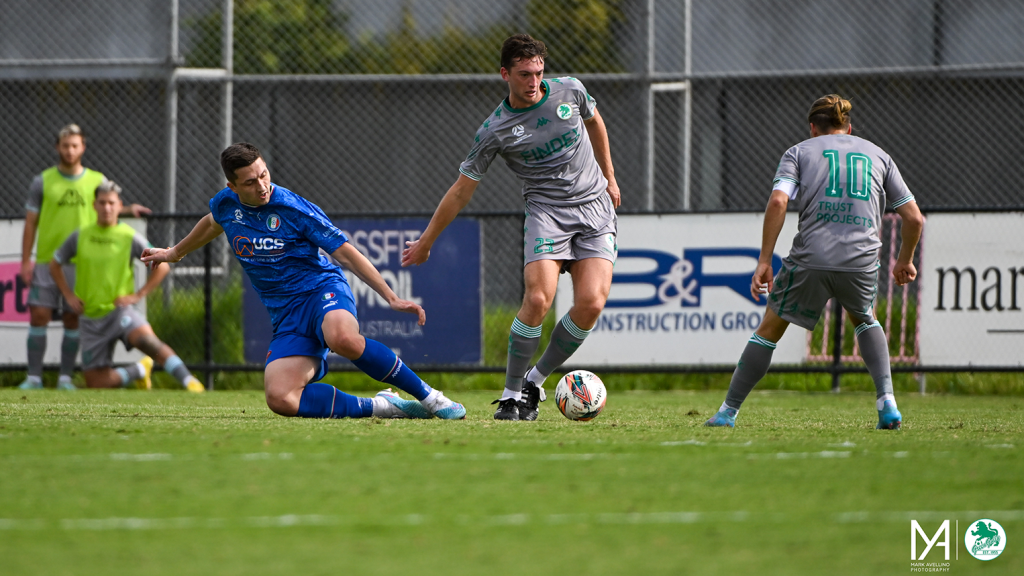 Our 21's also played Avondale which saw both teams having opportunities to score but neither team managed to do so, resulting in a draw. Alyn Cristea, the goalkeeper for Green Gully, made some crucial saves to prevent the opposition from scoring. The point earned by Green Gully was valuable in an important game, and both teams played impressively to produce an enjoyable game of football.
North Geelong's 21 played Moreland City and won that fixture 4-1. The 21's Warriors are currently 5th on the table with Gully sitting in 13th position and with both sides' points being very important to help solidify themselves in the table.
Two very important games from our Seniors and 21's at Elcho Park. We hope to see you all there supporting the boys in Green and White!
Photo by Mark Avellino Photography